VI Sand Making Machine
What is the sand making machine, sand making equipment is what?
Sand making machine is the main equipment of broken stone varieties, sand making machine, also known as impact crusher, sand making machine widely used. Not only is applied to and hard materials, but also used in very different material properties of the artificial sand, cement, mining, grinding refractories various ore, aluminum where soil clinker, glass raw materials, mechanisms to build stone to gold slag, especially for silicon carbide, corundum, US-sand high hard, hard and abrasion resistance material fragmentation, such as: granite, basalt, limestone, quartzite, gneiss, cement, concrete, ceramic raw materials, iron ore, gold, copper, alumina, bauxite, silica.Suitable for soft or hard and extremely hard materials crushing, plastic, widely used in than other types of production in the efficacy of higher crusher.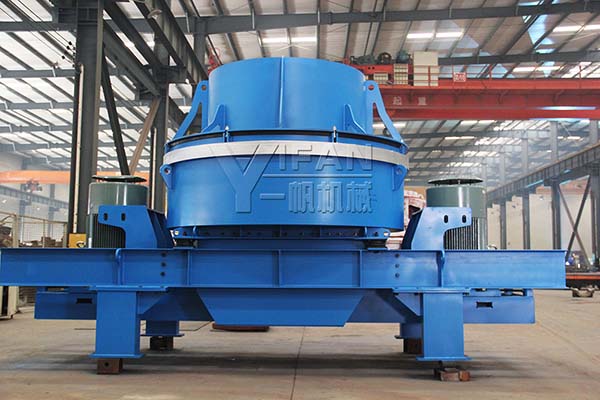 sand making machine YF_01
Sand making machine works
Sand making machine on its main advantage of material from the machine upper vertical fall into the high-speed rotation of the impeller, the centrifugal force, and the other part with umbrella form shunts in the impeller is surrounded with material with material in high speed impact crushing, crash into each other, and in the impeller and casing to materials in the form of eddy current times the mutual impact, friction and grinding, from the lower part through the discharge, the formation of closed cycle of repeated, by screening equipment control to reach the required product granularity.
Advantages and characteristics of sand making machine
[1] .Product packing density is large, the iron pollution.
[2] .Smooth running, low noise, high efficiency and energy saving, high crushing efficiency, with fine, coarse grinding function;
[3] .The advantages of simple and reasonable structure, since the strike crusher, convenient repair, low operation cost;
[4] .High reliability, high security device, ensure the safety of personnel and equipment;
[5] .A unique bearing installation and advanced design of the main shaft, so that the machine has a heavy load and high speed rotation characteristics.
[6] .Through the broken material capability, small influence by material moisture content, water content of up to about 8%;
[7] .Particle shape of a cube, excellent, flakiness content is extremely low, suitable aggregate plastic, artificial sand and aggregate production of high grade highway;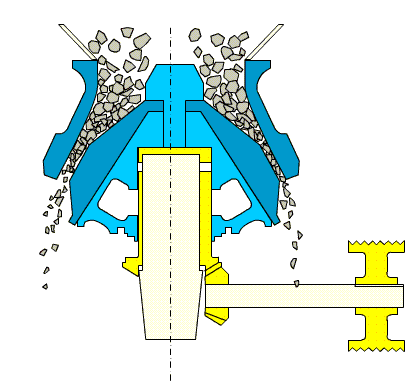 Sand making machine practice
Sand making machine practice :
[1] .Before driving examination adjustable vortex cavity observation door is closed, to prevent material from the eddy chamber observation door out, danger.
[2] .heck the direction of rotation of the impeller, from the feed inlet direction. The impeller rotates in a counterclockwise direction, otherwise should adjust motor wiring.
[3] .Crusher and conveying device boot order: discharging→→feeding crusher crusher crusher start to load, to normal operation after the direction of feeding. Shutdown sequence and boot in reverse order .
[4] .Feed grain in strict accordance with requirements, prohibited is greater than a specified material enters the crusher, otherwise, will cause the impeller impeller imbalance and excessive wear, base to clogging impeller channel and the central feeding tube, makes the crusher can not work normally, found a large feeding should be excluded.
[5] .Discharging device stop, should be timely feeding stop, otherwise, will cause the death of impeller, burning of the electric motor.
[6] .Feeding to uniformly continuous.
[7] .Crusher operation process, not violent vibration and abnormal noise, otherwise, should check for parking.
[8] .Machine lubrication, lubrication is a dry lubrication methods, using Mobil car grease extra, added bearing cavity1/2-2/3, crusher every class, add appropriate amount of grease, the work of a number of class, open the main bearing cleaning main bearing, replace if necessary bearing.
Sand making machine can be divided into four main categories:
Include :horizontal hammer type crusher, vertical shaft impact crusher, roller type sand making machine, vertical shaft hammer crusher.
(1) Horizontal hammer type crusher : Horizontal hammer crusher sand making machine is mainly PX efficient fine crusher ( split hammerhead structure ) and hit the sand machine ( integral type hammerhead structure ).Efficient fine crusher hammerhead and a hammer handle are split structures, hammerhead adopts high-strength wear-resistant material, long service life of hammer. Hammer replacement more convenient. The bottom has a screen plate structure, can achieve effective frayed, improves the efficiency of sand. Play the hammer pressure-blasting machine hammer is an integral structure, directly through the rod connected to the rotor. Due to this structure, the hammer in the crushing process will produce a larger force, so the head materials of low hardness, so the hammer abrasion resistance is weak. Daring play sand machine has the advantages of simple structure, low price, small work place is an option.
(2) Vertical shaft Pelton Sand : Vertical shaft Pelton Sand according to rotor structure is divided into: the open rotor structure and a closed type rotor structure. Closed type rotor structure, the rotor into the cage is layout, material from the top into the closed after the rotor, is high throw. Open type rotor structure, the rotor is open structure, material into the rotor, by throwing hammer hit.
(3) Roller type sand making machine : In the small capacity of the sand fields, using roller crusher sand making machine for use, are also part of the application. But the roller type sand making machine used in the long termIn the process of poor reliability, fault rate is higher, the repair and maintenance more difficult. Therefore, to have certain hardness and abrasion resistance of high material, to avoid the use of roller type sand making machine.
(4) Vertical shaft hammer crusher : Vertical shaft hammer crusher, sand making machine can also be used as. The device has no bottom plate, no blocking phenomenon. The hammer is an integral structure, through the rod connected to the rotor.
Sand making machine maintenance:
[1] .periodically stopping opened the observation door observation Pelton Sand internal wear, center feeding tube, a conical cap, impeller, lower flow channel lining, circumferential guard plate, wear-resistant block wear, wear should be promptly after the replacement or repair, replace the wear-resistant block should be replaced at the same time, ensure the wear-resistant block weighs the same. Forbidden crusher working process opened the observation door observation of internal work, in order to avoid danger. Discovery of impeller wear timely replacement for manufacturers repair. Of particular note, without manufacturers agreed to, the unauthorized self-made impeller.
[2] .sand making machine transmission belt tensioning force should be adjusted properly, to ensure that the triangular adhesive tape of uniform stress, double motor drive, on both sides of triangle belt should be matching, so that the length of each group as consistent as possible, in order to ensure sand making equipment energy efficiency;
[3] .sand making machine in the work to400 hours should be suitable for adding grease, to work up to 2000 hours when it is necessary to open the main pair of bearing cleaning, if the work to 7200 hours when, must be replaced with new bearings.
[4] .sand making machine lubrication is a dry lubrication methods, adding bearing cavity 1/2to 2/3, every class, adding lubricating grease.
[5] .in the course of work, by sand making machine belongs to the high speed operation of the equipment, should special caution. Staff should be away from the device, if the repairs to it, must be off before operation.
YIFAN Machinery into production is the latest series of VIS Impact sand making machine :
VI sand making machine is the German experts with China's conditions of the latest design results. The machine is to uphold the Pelton Sand innovative broken concept, the use of advanced selective crushing and cleavage crushing principle, applied directly to the material sufficient kinetic energy, and by the impact of converting kinetic energy into the material needed to overcome the broken broken. Material basic along its natural texture, cleavage fracture, grain shape, its consumption is low, more in line with the construction of high grade highway, railway, water conservancy and hydropower project on the mechanism of aggregate demand.VI series sand making machine as the first hydraulic actuated Pelton Sand, sand making machine50% energy than traditional. It can be a variety of rock, gravel, cobble made echoing the various size of construction sand, sandy granularity, high compressive strength, far more than ordinary natural sand, sand hammer hit production of sand is more in keeping with the construction requirements, but also to improve construction quality.
Sand making machine technical parameters :
| | | | | | | |
| --- | --- | --- | --- | --- | --- | --- |
| Model | Max Feed Size(mm) | Speed of Rotor(r/min) | Capacity(t/h) | Motor Power(Kw) | Overall Dimensions(L×W×H)(mm) | Weight(Kg) |
| VI-3000 | 45 (70 ) | 1760-2210 | 30-60 | 55-90 | 3080×1757×2126 | ≤5555 |
| VI-4000 | 55 (70 ) | 1550-1940 | 50-90 | 110-150 | 4100×1930×2166 | ≤7020 |
| VI-5000 | 65 (80 ) | 1330-1670 | 80-150 | 150-220 | 4300×2215×2427 | ≤11650 |
| VI-6000 | 70 (80 ) | 1190-1490 | 120-250 | 220-320 | 5300×2728×2773 | ≤15100 |
| VI-7000 | 70 (80) | 1050-1310 | 180-350 | 264-400 | 5300×2728×2863 | ≤17090 |
| VI-8000|| | 80(120) | 940-1170 | 320-600 | 440-630 | 6000x3022x3425 | ≤24610 |
Note:
1.The capacity is total tons per hour passing through crusher at open circuit when crushing medium and below hardness material and bulk density with 1.6x10³kg/m³.Capacities are relative to physical character and type of feeding,feeding size and composition and so on.
2.The number in the brackets is applicable to low abrasive material.
3.Hydraulic decap and automatic lubricating device are optional configuration.
Contact Us
If you have some questions about our crushers or you want to know the price of them,you can leave a message by filling the forms. Every day we check the website message, and for the first time to respond to your needs .