CJ Jaw Crusher
What is the CJ jaw crusher , The development process of the CJ jaw crusher.
CJ jaw crusher is jaw crusher which a core R & D variety, is to introduce the most advanced international crushing technology and research results from Zhengzhou Yifan Machinery Co. , Ltd. Yifan million units jaw crusher on the basis of manufacturing experience , the use of finite element analysis method successfully developed a new generation of products .Well-known mining machinery crusher , sand making machine , mobile crushing plant and construction waste disposal equipment R & D manufacturer Zhengzhou Yifan Machinery Co., Ltd. launched a new crusher - CJ hydraulic jaw crusher , which is the traditional jaw crusher technical upgrade of the machine , is currently the world's leading rock and mineral processing equipment . This series of jaw crusher , once put into the market by the hard , strong corrosive materials broken a warm welcome from industrial customers , has become the undisputed world's most popular jaw crusher .
Yifan Machinery CJ jaw crusher workshop shooting scene(YF-02)

CJ jaw crusher advantages:
Compared with the traditional jaw crusher, CJ jaw crusher in the design and manufacture of more attention to details, high strength materials, advanced manufacturing technology, has higher strength, higher reliability of equipment, broken than larger, higher yield, more comprehensive cost is low advantage.

CJ series jaw crusher main features:
Solid structure:
[1] .The rack is welded and assembled two: small and medium size generally adopts a welding type, large general specifications of assembled using.
[2] .Welding type with large radian radius transition, low stress area of welding method, greatly reduces the stress concentration in each direction, ensure the frame strength of equality, having impact resistance, uniform stress, low failure rate, etc..
[3] .Assembled with advanced modular, no welding frame structure design, fatigue strength, high reliability, at the same time the machine assembly design, transportation, installation is more convenient, especially suitable for underground coal mine, high altitude mining and other small, difficult to transport installation location.
The superior cavity design
Symmetric" V" shaped cavity design, elbow board big obliquity, the large stroke, reasonable speed, so that the feeding size larger, higher yield, more uniform size, reduced jaw plate.
Heavy jaw assembly durability
[1] .Heavy jaw assembly adopts the forging of heavy eccentric shaft, high quality and heavy load rolling bearing, finite element software to optimize the movable jaw body, ensures that the movable jaw assembly impact resistance and high stability;
[2] .labyrinth seal, centralized lubrication system to ensure the bearing grease lubrication is not contaminated, more convenient, make it a longer operating time, higher stability;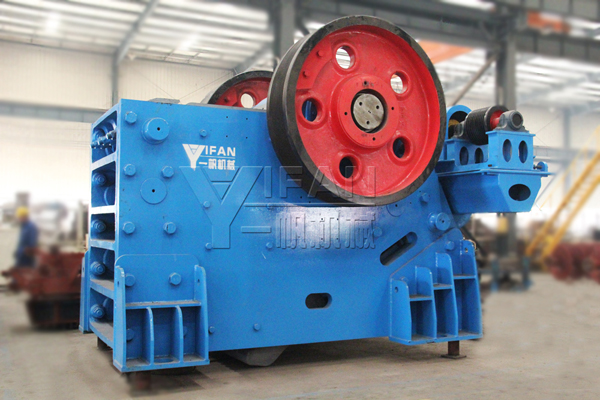 Yifan Machinery Cj jaw crusher workshop shooting scene (YF-03)
Movable jaw plate design
The movable jaw is mounted above the heavy guard plate, to avoid the material impact, the effective protection of the movable jaw body and the inside of the bearing from being damaged.
Integral bearing
Integral cast steel bearing seat structure guarantees and the frame is fully consistent, avoids the combinatorial type bearing seat in the tightening process of bearing unnecessary radial load, so that the bearing to run more smoothly.
Quick and easy size adjustment
CJ series jaw crusher with mechanical or hydraulic outlet adjusting device, the double wedge adjustment corresponding shim adjusting operation more simple, safe, fast, saving time.
Integrated motor installation
[1] .The 8shock absorber installation design
[2] .The motor seat and the crusher frame integral installation method, not only saved the jaw crusher installation space, reducing the triangle belt length, and as a result, a motor seat, a motor, synchronous motor adjustable motor base realizes the belt tension adjustment, so that three angle with longer service life.
CJ jaw crusher repair method
In order to ensure the normal operation of the CJ jaw crusher, in addition to operate correctly, must be planned repair, including daily maintenance and inspection, maintenance, repair and overhaul.
[1] .In addition to repair minor repairs of all work, also including the replacement of the thrust plate, lining, check and repair of bearing. Repair cycle is generally 1-2years.
[2] .Minor repairs: main contents include examination and repair of high speed adjusting device, discharge gap, on the wear lining tune or replacement. Maintenance of driving part, a lubricating system and replacement of lubricating oil. Repair cycle for 1-3months.
[3] . Overhaul: in addition to repair all the work, also include replacement or turning of eccentric shaft and the movable jaw mandrel, the upper part of the connecting rod head casting Babbitt, replacement or repair of the worn parts. Overhaul cycle is generally 5years.
CJ Jaw crusher technical parameters :
| | | | | | |
| --- | --- | --- | --- | --- | --- |
| Model | Max Feed edge(mm) | Discharge Range Opening(㎜) | Capacity(t/h) | Motor power(kW) | Weight(t) |
| CJ2031 | 425 | 40-150 | 50-200 | 55-75 | 7.95 |
| CJ2440 | 500 | 60-175 | 85-300 | 75-90 | 15.6 |
| CJ3040 | 640 | 70-200 | 120-490 | 90-110 | 23.2 |
| CJ3343 | 680 | 100-225 | 160-510 | 110-160 | 33.7 |
| CJ3749 | 800 | 110-250 | 260-810 | 132-160 | 49.3 |
| CJ4255 | 850 | 125-250 | 360-920 | 160-200 | 56.5 |
| CJ4763 | 1000 | 150-350 | 500-1250 | 220-250 | 90.3 |
| CJ5971 | 1250 | 160-380 | 700-1500 | 335-400 | 125 |
Note:
The capacity is total tons per hour passing through crusher at open circuit when crushing medium and below hardness material and bulk density with 1.6x10³kg/m³.Capacities are relative to physical character and type of feeding,feeding size and composition and so on.
Contact Us
If you have some questions about our crushers or you want to know the price of them,you can leave a message by filling the forms. Every day we check the website message, and for the first time to respond to your needs .