You are here:
Home
>>
Project Cases
>>150t/h mobile construction waste recycling equipment in Kunming Yunnan
150t/h mobile construction waste recycling equipment in Kunming Yunnan
The construction waste is produced into building material after crushed by mobile crushing plant, and it's applied widely. It not only can save energy sources, but also can made into the building material though the mobile crushing plant. It is good to environmental protection ,such as reducing the land resource occupied rate by the construction waste and avoiding construction waste polluting on the soil and water and so on.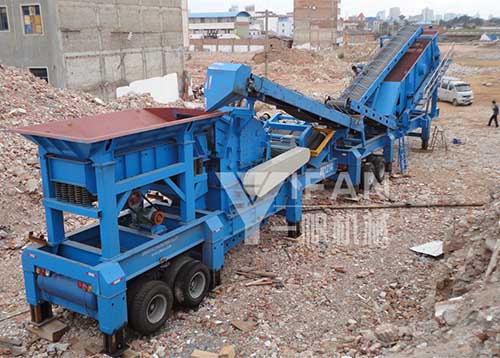 The Yifan mechanical construction waste disposal equipment to make an important contribution to the development of urban civilization
YIFAN construction waste equipment on construction waste crushing, the crushed and broken bits .Construction waste recycling equipment, flexible , easy to operate , highly mobile, can save a lot of infrastructure and relocation costs ; professional building construction waste disposal problem , environmental pollution , resource recycling and reuse to play a very good effect on the material site crushing without material transported from the scene and then broken , and can move with the advance of mining of raw materials surface , thereby significantly reducing the transportation costs of materials . Mobile crushing station configuration is flexible, based on the actual site design modification or special mobile crushing station, the design corresponds to the construction waste disposal process, saving unnecessary costs in the garbage disposal .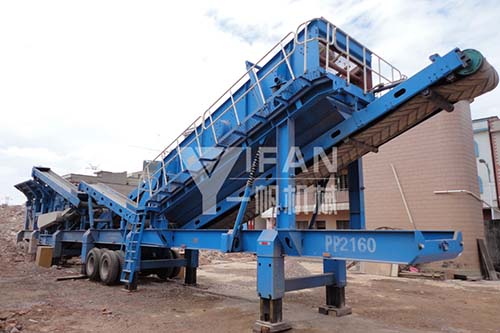 Zhengzhou Yifan Machinery Co. , Ltd. ( Holdings) by Sander Technology (Beijing) Co. , Ltd. is a Chinese professional crushing and screening equipment manufacturers . We offer our customers a full range of crushing and screening equipment , including hydraulic cone crusher , jaw crusher , impact crusher , vertical impact crusher ( sand making machine) , mobile crusher station and drying hammer crusher (applied to the gypsum board industry and the cement plant wet grinding and dry process) , we not only provide customers with high quality products, also offers first-class service support and solutions .
Contact Us
If you have some questions about our crushers or you want to know the price of them,you can leave a message by filling the forms. Every day we check the website message, and for the first time to respond to your needs .