You are here:
Home
>>
News
>>High crushing performance of cone crusher relies on its scientific configuration
High crushing performance of cone crusher relies on its scientific configuration
The supreme crushing technology of hydraulic cone crusher depends on its appropriate configuration, for example, the tolerance clearance between two spare parts, which can control the discharge gate in a smaller range, and in this way, the working efficiency of hydraulic cone crusher will be improved a lot.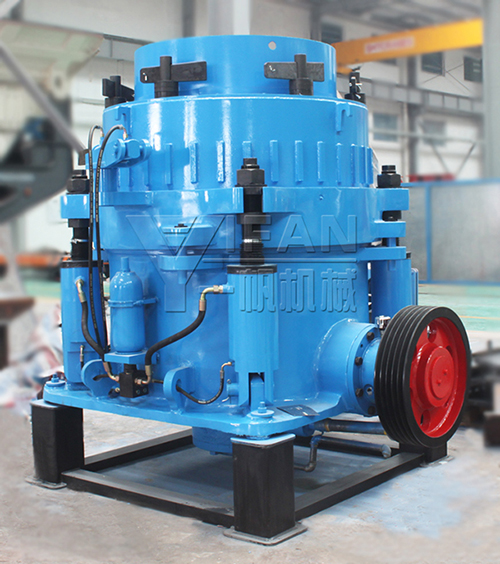 The installation and debugging of floating bush is complex since error generated in the production and assembly process of spare part can cause tolerance clearance change. Excessive tolerance clearance will make the floating bush out of touch, and then burning accident can be caused.
In addition to size accuracy of floating bush, it is also necessary for us to judge its stress strength correctly and make adjustment meticulously.
The balance weight of cone crusher can be taken as the equilibrium problem of rigid rotor rotating around a fixed axle. The rigid rotor of cone rusher refers to the combination of two moving parts, the sleeve of eccentric shaft and the movable vertebrae installed on eccentric shaft sleeve. The function of weight balance is to keep the dynamic equilibrium of two unbalanced rigid rotors.
The sphere centre of spherical bearing turns out to be under the suspension point if the outer ring contacts. Conversely, if the inner ring contacts, it demonstrates the sphere centre of is above the suspension point. There are many different ways for us to realize the superposition of sphere centre and suspension point, for example, increasing or decreasing gasket under the spherical bearing support, or changing the spherical radius of spherical bearing.
The problems mentioned above are correlative, interactive and interactional. In the process of installation and debugging, a slight change in one part may affect the situation as a whole. Therefore, we should consider comprehensively to avoid catching one and losing another.
Hydraulic cone crusher is one of our company's hot sale mineral crushing equipment. Because of its advantage on controlling product shape, it is extremely popular in engineering projects. Our online customer service will serve you sincerely.
Contact Us
If you have some questions about our crushers or you want to know the price of them, you can leave a message by filling the forms. Every day we check the website message, and for the first time to respond to your needs .