Prerequisites of investment a systerm of sand production line
Sand making machine is a professional sand making machinery whose history can be traced back to the fourth century BC,LuBan ,the originator of architecture evented a grinding tool which was driven by animals ,this grind was the earliest prototype of sand making machine .
Up to the modern times, Steam machine ,motor power machinery, etc ,were created one after another after gradually improved .Roller-type breaker which was driven by steam engine appeared in 1806, and in 1858 ,Blake from America invented jaw crusher which was used to crush rocks. In 1895 ,William also from America invented Impact crusher with low cost .At the same time,pulverizer and grinding mill also have the corresponding development .In the early 19th century, ball grinding mill came out and were widely used ,on this base, rod mill with equal granularity ,etc . The emergence of these machine highly improved operation efficiency in grinding and crushing .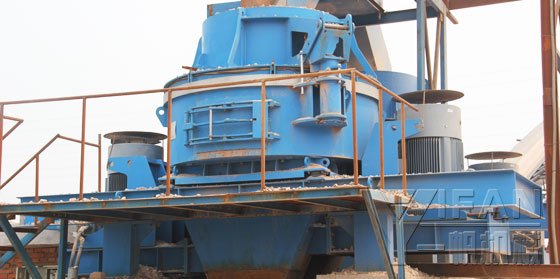 Up to now,with the development of technology ,crushing machines have significant progress ,especially when it steped into the 90s last century ,crushing production highly increased and more and more enterprises joined crushing industry in China .Through talent and technology exchange ,a complete manufacturing system with all kinds of configurations is formed .The gap between domestic technology and international technology level is gradually narrowing .
As a leading representative in crushing and screening field in China ,Zhengzhou Yifan Machinery Co.,persist in the development of international strategy, according to market demand and their own product status, continue to strengthen the international market development efforts . Yifan Machinery Company has formed a crusher,sand making machinery, mobile crushing plant and construction waste disposal equipment and other products, vibrating screen, feeder and other ancillary equipment, supplemented by a complete product chain and become a major domestic mechanical crushing sand making production and export base.
Contact Us
If you have some questions about our crushers or you want to know the price of them, you can leave a message by filling the forms. Every day we check the website message, and for the first time to respond to your needs .