Classification and usage of sand washing machine
Sand washing machine is an indispensable wet-processed equipment in sand making when it cooperate with sand making machine .It can wash away the micro stone dust and impurity from the mixed sands produced by sand making machine, thus improving the sand quality and purity .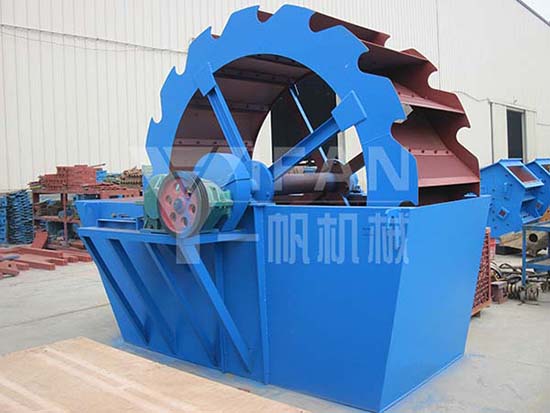 Sand washing machine is widely used in sand and gravel field , mining , building materials , transportation , chemical industry, water conservancy & hydropower , concrete batching plant and other industries, it can also apply to construction sites, sand and gravel plants, glass factories, hydroelectric plants and other units which need sand and gravel of smaller particles and carry out the work of washing, grading and dehydration. Generally sand washing machine can be divided into wheeled sand washing machine and spiral sand washer .
Wheeled sand washing machine is driven by the impeller and then make the gravels rotate and interact, water stream will take away the impurities attached to the surface , meanwhile, destroy the water vapor which surrounds gravels so that can dehydrate the gravels ,then clean sand and gravel will be sent from impeller to discharge chute. Wheeled sand washing machine has a good seal and reliable driving device with low power consumption and high utilization rate . Most importantly ,the failure rate is much lower than other types sand washing machine on the current market . It is suitable for large-scale production ,so it is a good choice when to buy sand washing machine .
Spiral sand washing machine clean dirt and impurity by using the impelling energy produced by the spiral blade . Spiral sand washing machine is featured with simple structure , good cleaning effect and high yield , but it also has its shortcomings, such as, the utilization of gravels is not high which resulting in a great waste , and a lot of waste will do harm to the living environment .
Yifan Machinery supply sand washing machine with various configurations at competitive prices . Welcome to visit our factory and negotiate business .
Contact Us
If you have some questions about our crushers or you want to know the price of them, you can leave a message by filling the forms. Every day we check the website message, and for the first time to respond to your needs .