Categories and advantages of cone crusher
Use of cone crusher is very broad, general aggregate processing, limestone production line, sand production line, cobblestone production lines can be used cone crusher for crushing, which is widely used in mining industry, metallurgical industry, construction industry, chemical industry and silicate industry for crushing ore and rock work.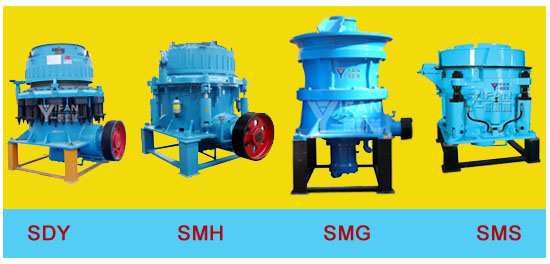 Cone Crusher Categories:
Currently mining industry to use more hydraulic cone crusher and the traditional Symons cone crusher (spring cone crusher).
Cone Crusher Type:
Short head type: generally used for medium and fine crushing.
Standard type: Average for two broken (crushing).
Cone crusher according cavity can be pided to four categories:
Super coarse type, coarse, medium, fine type.
Which cavity for choice is based on nesting feed size and grain size of the decision; feed size large, coarse granularity, choose super coarse type or coarse type; contrary, medium and fine type.
Cone Crusher advantages:
[1]. Crushing ability, can be crushing greater hardness rock.
[2]. Crushing uniform intensity, you can control the size of the broken material.
[3]. Finely pided ability, can be used for secondary crushing.
[4]. Multiple crushing chamber, a wide range of products adapted to the size requirements.
[5]. Spring crusher product size uniform, cubic shape
[6]. Convenient and reliable hydraulic systems that can provide safe and effective overload protection
[7]. Lrge output, high efficiency and cost savings.
YIFAN Machinery has over 30 years experience in mining equipment production and processing, the production of stone crusher is mainly used for a variety of ores and medium-grained bulk materials broken. Currently, YIFAN SDY Symons cone crusher, SMH hydraulic cone crusher, SMG hydraulic cone crusher, SMS hydraulic cone crusher four types of different types of cone crusher is widely used in mining, smelting, building material, highway , railway, water conservancy and chemical industry.
Contact Us
If you have some questions about our crushers or you want to know the price of them, you can leave a message by filling the forms. Every day we check the website message, and for the first time to respond to your needs .