Artificial sand manufacturing process crushing equipment
Sand equipment can put river gravel, granite, basalt, hardness compressive crushing stone processing ability of the formation of sand. Currently, artificial sand gradually replace natural sand to meet the construction, transportation construction, water conservancy construction and other construction projects construction industry building needs to become the best aggregate. Here Yifan Machinery mainly analyzes what equipment is needed artificial sand production?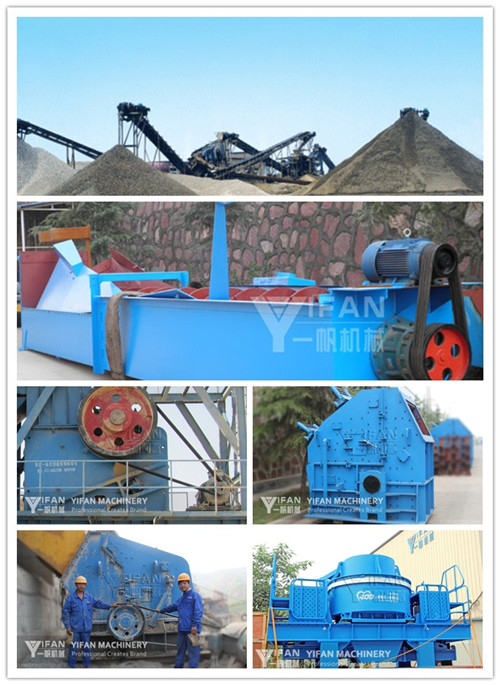 Artificial sand manufacturing process crushing equipment
One: Vibration feeder
The artificial sand can be uniformly delivered to the crusher making materials inside, and on the coarse screening material.
Two: jaw crusher
Jaw Crusher Coarse Crusher is primary crushing equipment, raw materials, artificial sand is broken into large pieces, in line with the feed size crushing machine, crushing machine in order to be transported to the fine sand.
Three: sand making machine
Sand is the last one broken artificial sand production process, it will have the jaw crusher or impact crusher broken artificial sand made ​​of sand so fine raw materials, and its uniform size, grain shape is good, in full compliance with the national standard sand requirements.
Four: Sand Washing Machine:
Sand washing machine is to produce artificial sand for automatic washing, wash away excess powder and clay impurities. But generally sand washing machine is, as the case may be, it can not.
Zhengzhou Yifan Machinery Co., Ltd. Recommend Professional artificial sand processing equipment: GZT Vibrating Feeder, PE jaw crusher, HCP Impact crusher and VSI sand making machine, the entire production line was closed loops that can conserve resources, cost savings.
Contact Us
If you have some questions about our crushers or you want to know the price of them, you can leave a message by filling the forms. Every day we check the website message, and for the first time to respond to your needs .