You are here:
Home
>>
News
>>Technical innovation helps Yifan gain more competitiveness in sand production line
Technical innovation helps Yifan gain more competitiveness in sand production line
Sand production line is a dedicated device specially for gravel and constructional sand producing. Sand production line is defined according to the material type, and the finished products including gravels and artificial sand ,therefore, it is also known as sand and gravel production line which equals a combination of stone production line and sand production line. It is 50% more efficient than traditional sand making machine. It can turn the rock, gravels, river gravel into aggregates which meet the requirements of constructional materials, products produced by this sand and gravel production line have uniform grain size , high compressive strength than natural sand or ordinary hammer type sand machine and it proved to be more in line with the requirements of the building materials .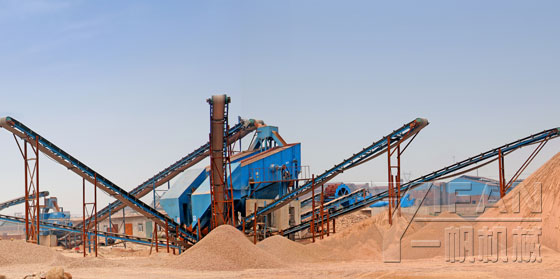 In China ,there are many manufacturers engaged in gravel or sand production line, but the solution to aggregates processing line is not very ideal, no technology improvements to devices or design ,no equipment upgrade , which is the biggest problems stone production line manufacturers faced. How to win more market share becomes a tough problem . Yifan Machinery thinks technology is the impetus of constant development. Without innovation ,we are not able to have improvements, unable to win customers .Only technological innovation can increase the competitiveness and grasp more market share .
Yifan Machinery is committed to producing high-quality crushing and screening equipment with constantly innovating, it has provided high-quality sand making equipments for a number of key projects at home and abroad, Yifan gravel production line consists of feeder, jaw crusher, impact crusher machine, vibrating screen, belt conveyor and other major equipment components, conjunction with a belt conveyor to form a complete production line . Yifan machinery sand production lines are featured with reliable performance, reasonable design, easy operation and high efficiency ,is your good choice when looking for suitable sand production line .
Contact Us
If you have some questions about our crushers or you want to know the price of them, you can leave a message by filling the forms. Every day we check the website message, and for the first time to respond to your needs .