YIFAN crushing equipment is widely used in gravel production line
Zhengzhou Yifan Machinery Co., provide complete gravel production line , this production line is mainly made up of jaw crusher machine(primary crushing), impact crusher machine(secondary crushing equipment),circular vibrating screen ,vibrating feeder and conveyor belts . hydraulic cone crusher, dust removal equipment can be fitted to meet customers' further requirements. Below will introduce you the process of gravel production line, and its performance characteristics .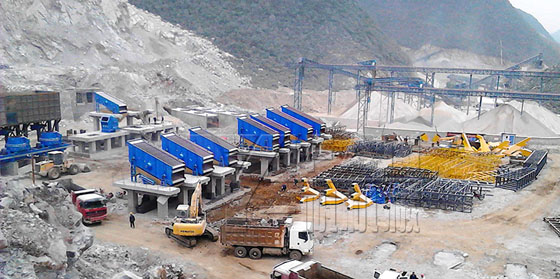 First, the raw material( gravel ) are sent from the feeder to jaw crusher for preliminary crushing , and then coarse material will be transported to the impact crusher by belt conveyor for further crushing , after this stage ,output materials will be sent to the vibrating screen,and will be screened out into three different size, super big stones return into the crusher for crushing once again .
This gravel production line has high degree of automation, the whole production line almost doesn't need manual operation except the starting up or downtime of equipment ,and routine maintenance . This production line is featured with high efficiency, low operating cost, high yield, finished stones with uniform size and good shape .
We provide complete pre-sale, sale and after-sale services, we organize the production line according to customer's working site ,we devote ourselves to make the most reasonable and economical gravel production line.
Contact Us
If you have some questions about our crushers or you want to know the price of them, you can leave a message by filling the forms. Every day we check the website message, and for the first time to respond to your needs .