Describes the basic process of stone production line
Stone production line is divided into stone production line, sand production line . Category type device configuration different from the production line.
Which according to the hardness of their stone crushing production line can be divided into a molding material stone production line and secondary crushing stone production line.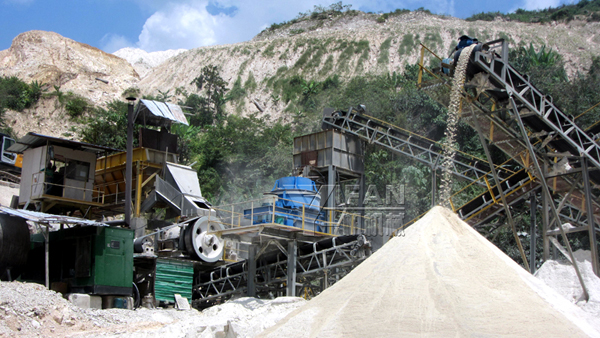 Chunks of stone by the hopper evenly sent by the vibrating feeder to jaw crusher for primary crushing, crushing stone after by the belt conveyor to the crusher for further crushing; stone after crushing by the belt conveyor admitted to shaker for screening, screening out several different sizes of stones, pebbles meet the size requirements of the finished product conveyor belt sent the finished product stockpile; gravel does not meet the size requirements of the belt conveyor feed back to Impact the crusher again repeated to form a closed loop. Finished size can be combined and graded according to the needs of users, for the protection of the environment, can be equipped with auxiliary dust removal equipment.
Stone production line high degree of automation, low operating costs, high crushing ratio, energy saving, large output, less pollution, easy maintenance, producing mechanism in line with national standards for construction sand sand particle size were, uniform grain shape is good, with reasonable level.
Contact Us
If you have some questions about our crushers or you want to know the price of them, you can leave a message by filling the forms. Every day we check the website message, and for the first time to respond to your needs .